November 30th, 2011
Comments off
What's disappointing about all this is that the site plan was approved three-years ago.  Why now after many meetings and changes ecide that things are not moving forward? 
Things would go much more smoothly if planning commission and city council members could keep in mind that time is money and that a constantly moving site plan target is very hard to pin down.
The following is from www.annarbor.com, October 12, 2011:
A controversial student apartment project known as 42 North is no longer moving forward, according to Ann Arbor officials.
Wendy Rampson, the city's planning manager, told members of the Planning Commission Tuesday night the project site plan — approved three years ago by a 7-4 vote of the Ann Arbor City Council — has expired and the property owner isn't seeking an extension now.
The project called for construction of five buildings on a 15-acre site owned by Grace Bible Church, off South Maple Road near Pauline Boulevard on the city's west side. It would have included 494 parking spaces, a number far in excess of that required by city code.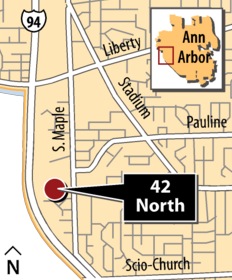 When the site plan expired recently after three years without activity, Rampson said the church, acting as the applicant, came in seeking an extension."And then they found that they were going to have to make significant changes to the plan in order to meet our new codes and opted not to do that," she said.
Rampson said the developer of the site never exercised its option to purchase the property, and the church was hoping to extend the site plan to make it available to a future developer.
A representative of the church could not be reached for comment.